So now that we caught up on all of the major life events of the last couple months, allow me to fill you in on all of the mundane events that you thought you dodged a bullet on.  This is in no particular order of importance, and in fact only one of these things can objectively be classified as "important".
1. I got a terrible, terrible haircut.  I've been in the long, excruciating process of growing my hair out since May of last year when I got an ill-advised long bob.
B&A from last May, so sorry for the selfies.
Unfortunately my hair is just so GD thick, when it's short it just tends to get really poofy.  And ultimately takes wayyy more effort to style than I'm willing to put into it.  Thus began the dreaded grow-out.
I went in for a trim, and walked out with this. 
To be able to "fix" it, they had to take a lot of length off, so I'm currently rocking an even shorter LOB than I started with and I'm scarred for life.  The End.
2. I didn't end up running that half marathon.  In fact, I stopped running or working out with any sort of regularity for a while.  I've been trying here and there as I can, but with all of the driving and the stress, I've been doing a lot more sitting and eating.  A lootttt more.  I'm trying not to worry about it too much, as much as I like eating healthy and working out there are some phases of life where it's just not feasible.  And I'm not going to beat myself up about it.  But I'd be lying if I said I wasn't looking forward into getting back to my normal routine in the near(ish?) future.
3. My niece Lillian was born!  This is more of a major event than belongs on this list, but I can't wait any longer to gush about it.  She's pretty cute.  My two favorite things about her are her exquisite RBF (resting baby face) and her utter lack of shame regarding flatulence.  I am a very mature person.


4. I got my drunk Groupon massage and it was just ok.  I know, all of that ceiling work for NOTHING.  Especially now that we are moving…  But the lady was really rough (I did ask her to be lighter a few times to no avail), it reminded me of the Friends episode where Monica was giving everyone massages and they were terrible.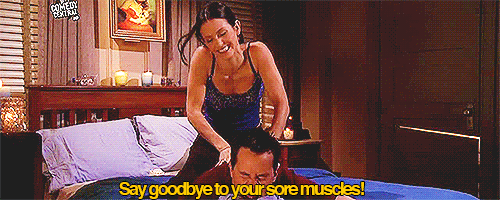 5. I tried to think of five things to have a nice number for the list, but I can't even think of five minorly interesting things that have happened to me, so I'll just wrap this up.